Padma Shri Dr. Bhavarlal H Jain, Founder of Jain Group, Jalgaon, passes away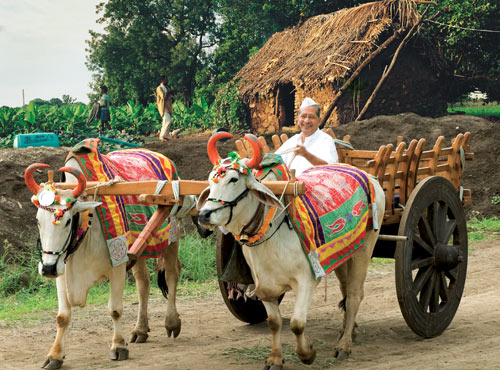 25 February 2016, With immense grief and unparalleled sadness we inform that our beloved Founder Chairman Shri Bhavarlal Hiralal Jain (Age 79) passed away today after brief illness at a hospital in Mumbai.
He was a man of small ideas which created big revolutions. He practiced what he preached and he built his entire business on a foundation of inclusiveness and sustainability over the last 5 decades.
He believed small farmers are entrepreneurs and they must get dignity as well as higher income. He toiled hard to ensure the same to over 5 million farmers. He was a visionary and "Karmyogi". We pledge to walk on the path envisioned by him for forever. The cremation ceremony will take place at Jain Hills Jalgaon at 3 PM on 27th February 2016, Saturday.
The small town entrepreneur who established a billion dollar, rural, multinational corporation. A spirited champion of the small farmer; whom he saw as nobly toiling in the face of all adversity. A committed environmentalist and compassionate social worker – is no more!
Bhavarlal Hiralal Jain, 'Bhau' to all his innumerable friends & associates, passed away after a brief illness in Mumbai on 25th February 2016.
How can mere words describe this multifaceted man? A son of the soil, who by sheer dint of hard work, bravely facing penury, rose to head the world's second largest drip irrigation company. Whose pioneering work in the farming sector is unparalleled by any single individual in this country's history. Who brought the latest and most relevant technology to the small and marginal farmers and always ensured that all his business were done ethically and with a conscience. That whatever technology was brought, could be adapted for small farm holdings. Further, he constantly innovated with these technologies to make them affordable and within their reach.
A man who never shied away from work, a man who genuinely believed that there was nothing better than to work for a person. Not doing anything was anathema to him. If it was not work in the JISL factory, or the R&D farm, then it was social work. Education was very close to his heart. He believed in nurturing the young with good education and sound values. Values that have stood the test of time, but are slowly and surely being eroded by the influence of Western culture on our youth.
The residential school, Anubhuti that he established in Jalgaon, followed modern teaching methods, curriculum and offered an international quality of education, but retained many Indian customs & values seen in our Gurukul.
He firmly believed that economic conditions should not prevent deserving children from getting a good education. This prompted him to start another school for children whose parents live below the poverty line. Today hundreds of bright youngsters, provided with free education, books, wholesome meals and all other necessities, bear witness to the faith he reposed in them and are blooming in their new environment.
His diminutive stature belied the immense reserves of strength that the man had. Seven heart attacks, two bypass surgeries, an angioplasty and cerebral stroke, did not deter him from working an eight or ten hour day. Be it building and running of the Anubhuti School or the mammoth Gandhi Research Foundation. The latter he set up not just because he personally believed in the Mahatma's teachings but also to ensure that the younger generation never forgets him or the timeless message of his life's work.
A much sought after public speaker, he would hold his audience spellbound with his knowledge & eloquence on various subjects – be they work related, political or social. Without as much as a scrap of paper as an aide memoire, his prodigious memory could recall data, events or recount anecdotes and stories to enthrall, entertain or captivate his audiences.
Speaking extempore with such erudition and passion on agriculture for nearly an hour at the Harvard Business School during his last visit to the US, prompted Prof. Ray A. Goldberg, (George M. Moffett Professor of agriculture and business, Emeritus) calling him his brother! The professor later visited Jain Irrigation, Jalgaon with a delegation that included other professors and the Dean of Harvard Business School. The HBS today uses Jain as a case study for their graduate program.
There were so many subjects that he was committed to that he has written several books on them. His book on the ills of social structure written 20 years ago, is as relevant today as it was then.
His book on his experiments and learnings with watershed management could well be used as a textbook by students and by the general public as the subject is so pertinent and his observations so simple to understand. His unique style of management, has a thriving sustainable corporation, employing 10,000 associates, seamlessly working across five continents. This is reflected in his books – "An Entrepreneur Deciphered" & "The Enlightened Entrepreneur".
Perhaps the most touching story "Tee ani Mee", written in Marathi, Hindi & English on the relationship with his wife, stops from being just a charming sentimental account of his life with her, because of the underlying message that is woven skillfully into the narrative. A message of direction, a message of hope & encouragement to young couples entering matrimony. The book is in its third edition and has sold more than 1,20,000 copies in a few years.
Bhau's unflagging energy has always amazed his younger colleagues and contemporaries. He was ever ready to adopt new technologies and enter new ventures. Particularly ventures that had a social impact and would benefit society. It was his company's avowed policy to never get into any business that preyed upon the weaknesses or addictions of others. No matter how profitable they may be! Thus there was always an effort to do business that would have a positive impact on society – particularly the weaker sections of society.
His work & concern for the environment had its roots in the tenets of Jainism which teaches one to protect and live in tune with nature. His herculean task of transforming Jain Hills and its environs into a fertile green paradise, included planting millions of trees. Trees that were not just planted and abandoned to fend for themselves, but watered, nurtured and cared for. These efforts converted tracts of barren land into swathes of green and brought hectares of arid fallow land under cultivation.
Bhau's sterling work on rain water harvesting, watershed management and conservation is a landmark in the history of agriculture in this arid region of Khandesh. This and his contribution to agriculture have led universities to bestow four honorary doctorates and have won him numerous national and international awards. The prestigious Crawford Reid Award for promoting proper irrigation techniques, has been given to only two Asians till date. More recently the nation recognized his work and awarded him the Padma Shri in 2008. He set up a huge Agri-Institute at Jain Hills with a faculty of agronomist and doctorates to train farmers from all over India and abroad on the latest farming methods.
He established one of the finest biotech labs, doing research in various fields of agriculture. A few years ago this resulted in one of the most socially impactful ventures-tissue culture banana, strawberry and pomegranate plantlets. Here again farmers from across the country have seen their incomes grow exponentially because of the phenomenal yield from these plants. Such thinking had elevated him to be considered a thought leader internationally.
As we bid farewell to this towering visionary, our hearts are gladdened with the thought that even if he is no more with us, we inherit his legacy of tireless work and love for the environment which he has planted in each and every one of us.
About Jain Irrigation
Our Company, Jain Irrigation Systems Limited (JISL) with it's motto 'Small Ideas, Big Revolutions' has more than 10,000 associates worldwide and revenue of 60 billion rupees, is an Indian multinational company with manufacturing plants in 28 locations across the globe. It is engaged in manufacturing of Micro Irrigation Systems, PVC Pipes, HDPE Pipes, Plastic Sheets, Agro Processed Products, Renewable Energy solutions, Tissue Culture Plants, Financial Services and other agricultural inputs since last 34 years. It has pioneered silent revolution with modern irrigation systems and innovative technologies in order to save precious water and has helped to get significant increase in crop yields, especially for millions of the small farmers. It has also ushered in new concept of large scale Integrated Irrigation Projects (IIP). 'More Crop Per DropR. is company's approach to water security and food security. All the products & services of JISL help create sustainable future while fulfilling its vision 'Leave this world better than you found it'. JISL is listed in NSE-Mumbai at JISLJALEQS and in BSE at code 500219. Please visit us at www.jains.com.
Other informative links :
Marathi Blog - Information Resp.Bhavarlalji Jain
Link - https://jislblog.wordpress.com/b-h-jain-profile/
Marathi Blog - Jain Irrigation
Link - https://jislblog.wordpress.com
Wikipedia Page
Link - https://en.wikipedia.org/wiki/Bhavarlal_Jain
Link - https://en.wikipedia.org/wiki/Jain_Irrigation_Systems